The Ultimate Guide to an Energy-Efficient Christmas Dinner
It's almost time for Christmas! We're counting down the days until the big day arrives. Some of our favorite traditions are opening up new Christmas pajamas on Christmas Eve and attempting to sing carols together. We also love preparing and eating a delicious, gourmet Christmas dinner. But preparing a big holiday meal can be an energy-intensive task, with ovens and stovetops running for hours on end.
The Point Zero Titan power station can dramatically decrease your cooking energy usage and costs, all while providing reliable, portable solar power when you need it most. The Titan can power a cook stove top for 1.2 hours, a microwave for 1.8 hours and a refrigerator for 21.5 hours.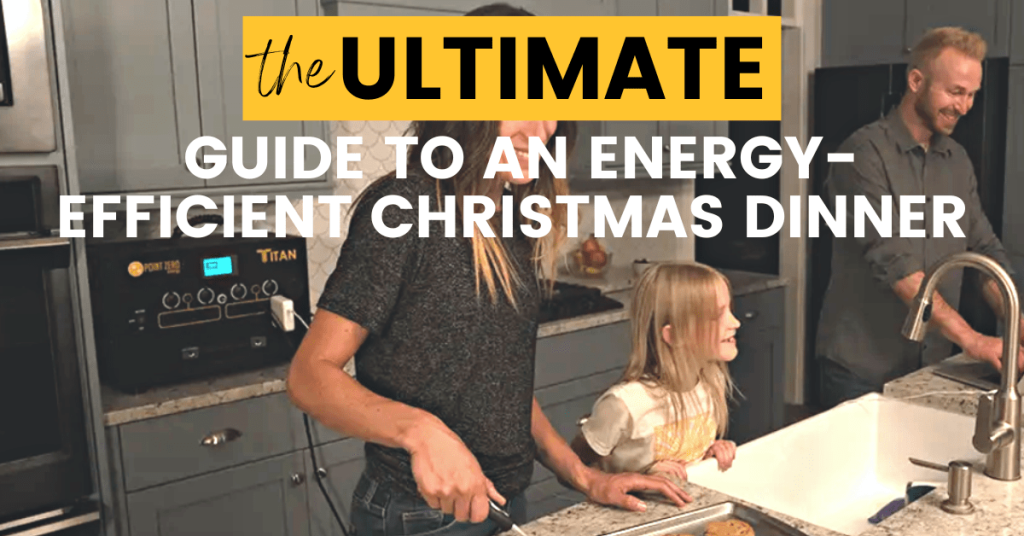 If you want to save energy and reduce your carbon footprint this holiday season, there are plenty of delicious Christmas dinner foods that are both sustainable and delicious. Here are a few of our favorites:
Roasted vegetables. Roasting vegetables is a tasty and healthy way to enjoy the bounty of the season. Plus, roasting vegetables in the oven uses less energy than boiling them on the stove. Try roasting a mix of seasonal vegetables, such as Brussels sprouts, carrots, and sweet potatoes, for a delicious and energy-efficient side dish. Pro tip: Roast your veggies in an air fryer. Air fryers use less energy to run than big ovens and they make your food crispy and bursting with flavor.
Grilled meats. Nothing says Christmas like a juicy filet mignon, am I right? Grilling is a popular cooking method during the summer, but it's also a great way to save energy during the holiday season. Grilling uses less energy than oven-roasting, and it can add a delicious smoky flavor to your meats.
Slow cooker dishes. Slow cookers are a lifesaver during the busy holiday season. They use less energy than ovens and stovetops, and they allow you to prepare dishes in advance so you can spend more time with your guests. Try making a slow cooker pot roast, chili, or stew for a hearty and energy-efficient Christmas dinner.
Green Salads. Salads are a light and healthy option for your Christmas dinner, and they require very little energy to prepare. Try mixing a variety of seasonal greens, such as arugula, spinach, and radicchio, and tossing them with a simple vinaigrette. You can also add toppings, such as nuts, seeds, and dried fruits, for added flavor and nutrition. Add pomegranates and cranberries for a festive vibe!
Desserts. No Christmas dinner is complete without a delicious dessert, and there are plenty of sustainable options to choose from. Try making a fruit crumble or a pie using seasonal fruits, such as apples, pears, or cranberries. You can also make a simple chocolate mousse or a vanilla panna cotta using just a few ingredients and very little energy.
Have a delicious, festive meal and be energy efficient this Christmas. By incorporating solar power into your kitchen and these energy-efficient foods into your Christmas dinner menu, you can save energy and reduce your carbon footprint this holiday season.
Bon Appétit!